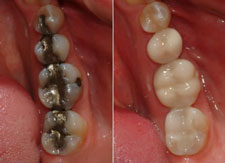 SUV Dental Service
Restorative dentistry is the study, diagnosis and integrated management of diseases of the teeth and their supporting structures and the rehabilitation of the dentition to functional and aesthetic requirements of the individual. Restorative dentistry encompasses the dental specialties of endodontics, periodontics and prosthodontics and its foundation is based
upon how these interact in cases requiring multifacete.

Restorative Treatments
Bonding. The bonding process is applicable in almost every dental procedure performed today. It is accomplished in one visit to the dentist. No mold-taking, no "temporary," no lab-fabrication. And it may take care of chips, gaps between the teeth, staining, splotches from wearing braces, crookedness or even teeth whose shapes are displeasing. Plus, it's relatively inexpensive.
Concerns and Care of Temporaries. Temporaries are designed to restore your teeth for a provisional or interim period of time. Although today's temporaries are significantly more lifelike and durable than those used previously, it is not uncommon for some people to experience problems with their temporaries.
Dental Bridges. Dental bridges, dental implants, and partial dentures are used to replace missing teeth that would otherwise adversely affect your mouth. The negative effects of one or more missing teeth can include the shifting of other teeth to accommodate for the open space, a change in the bite that may affect your ability to eat, a speech impediment, and an increased risk for periodontal disease and tooth decay.
Dental Crowns. Whether a crown is needed for tooth cracks, excessive tooth decay, damaged tooth protection, teeth grinding, missing teeth, need for beautification or an improper bite resulting from the natural wear and tear produced by aging, dental crowns of today can satisfy your functional and esthetic needs. The purpose of a dental crown is to encompass and protect a needy tooth with a custom-designed tooth material, much like a fitted cap.
Dental Fillings. Dental fillings are used to repair minimal tooth fractures, tooth decay, or otherwise damaged surfaces of the teeth. Dental filling materials may be used to even out tooth surfaces for better biting or chewing. In many cases, individuals with enamel loss resulting in tooth sensitivity will notice a significant improvement or complete elimination of sensitivity once the appropriate dental filling material is placed.
Dental Implants. In many cases, dental implants may be the only choice to restore all necessary functions of the teeth and supporting structures. An implant can replace a single missing tooth and multiple implants can be used to support a dental bridge for the replacement of multiple missing teeth. Implants can also be used to increase the retention of dentures, helping to minimize gum irritation. Another implant advantage is that they do not require the preparation of adjacent teeth that would be necessary for bridgework.
Dentures. Complete dentures are used to replace missing teeth for people with no remaining teeth. Dentures may also be used for people who have lost several teeth. It is very important to replace missing teeth. The ill effects of not doing so can be a shift in remaining teeth, an inability to bite and chew properly, as well as a sagging facial appearance, which makes one appear older than they are.
Filling Materials. You have many choices when it comes to restoring damaged or decayed teeth, even down to the type of dental filling material to use. You may choose to have white "tooth-colored" fillings (composite or porcelain) or silver amalgam restorations. There are a number of pros and cons associated with both composite and amalgam fillings.
Full Mouth Reconstruction. Full mouth reconstruction, full mouth rehabilitation and full mouth restoration are terms often used interchangeably to describe the process of rebuilding or simultaneously restoring all of the teeth in both the upper and lower jaws. Most full mouth reconstructions involve multiple phases and office visits. It is not unreasonable to expect treatment to take 12 months or more, depending on your situation.
Inlays and Onlays. Inlays and onlays are dental restorations used by a select number of dentists. In certain cases, inlays and onlays are a conservative alternative to full coverage dental crowns. Inlays and onlays can often be used in place of traditional dental fillings to treat tooth decay or similar structural damage.
Temporaries. Today's natural-looking temporaries, also called "temps" or provisional restorations, have undergone radical changes. Provisionals now enable you to "preview" the final result of your smile design or reconstructive treatment. They allow you to make a more informed decision about the size, shape, feel, function and color of your final restorations.