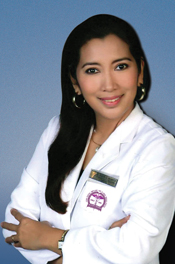 Meet the Great Dentist from Cebu
– Received her degree in Dentistry at the Southwestern University, Cebu City. She went on for further training in TMJ – Dental Sleep Medicine specifically in Snoring and Sleep Apnea Management, Orthodontics, Cosmetics, Periodontics, Endodontics, Pediatric Dentistry, Dental Surgery and Implant Dentistry in various institutions in the United States of America, Singapore, Taiwan and in Japan.
Dr. Valmayor is a strong advocate of the whole body dentistry approach which believes that a person's oral health is strongly linked to the total well being of the individual. Any disturbances on the tooth would affect directly or indirectly the organ condition. Thus, a person's medical concerns could be related to his/her dental condition.
Professional Profile
Dr. Susan Uriarte-Valmayor, D.D.M., D.D.S.
Orthodontics / Cosmetics / Dental Implantology / Periodontics / Endodontics  Pediatrics Dentistry / Dental Surgery / Temporo Mandibular Joint Disorder (TMJD)  Snoring and Sleep Apnea / General Dentistry
Batch 1986 – Southwestern University, Cebu City
___________________________
Professional License No. 0028434
Professional Background
- International Post-Doctoral Graduate Courses
– Preceptorship / Trainings
– Trainings and Seminars Record
– Conventions / Conferences Record Affiliated
– Accredited (HMO) Insurance / Institution
– Organizational Membership / Affiliation